RecommendFacebook Twitter LinkedIn
Security and Defense: Protection, Mobility and Efficiency
Jenoptik is your expert and reliable partner for international projects in the field of security and defense, offering high-quality and innovative products.
Conditions in the security and defense industry are subject to constant change. As new areas of application open up, state-of-the-art equipment is required. Our technological developments focus on energy efficiency, lightweight design and durability. Optimal protection of the people involved remains our top priority. Jenoptik systems guarantee a fail-safe electrical power supply and maximum precision in mechanical stabilization.
Our products include electric and hybrid power supply systems, such as those for military ground vehicles and air defense systems. We also manufacture electromechanical stabilization systems and special drives. Our electro-optical thermal imagers and rangefinders are used for military reconnaissance or to protect infrastructure. Our extensive product portfolio also includes radomes to protect the radars of aircraft and helicopters, as well as rescue hoists and cargo winches for helicopters.
In our industry projects, we strictly abide by all national and international regulations, particularly with regard to export control law.
Our reliable, tailored customer service provides spare parts, maintenance, repair and logistics. This ensures our products remain fully functional over a service life that can span several decades, even under heavy use.
Please contact us for more information.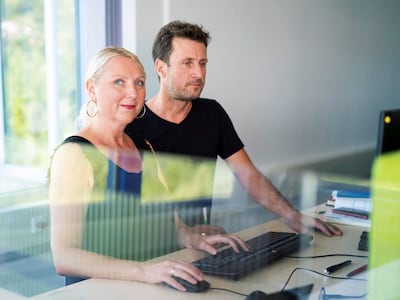 Sales Defense and Security Technology
Sales North America