Jenoptik's flexible speed enforcement solution underpins new storm safety scheme on the A14 Orwell Bridge
Highways England's new variable speed limit scheme to allow vehicles to safely travel over Suffolk's Orwell Bridge more often during storms is being supported by a flexible average speed camera solution from Jenoptik.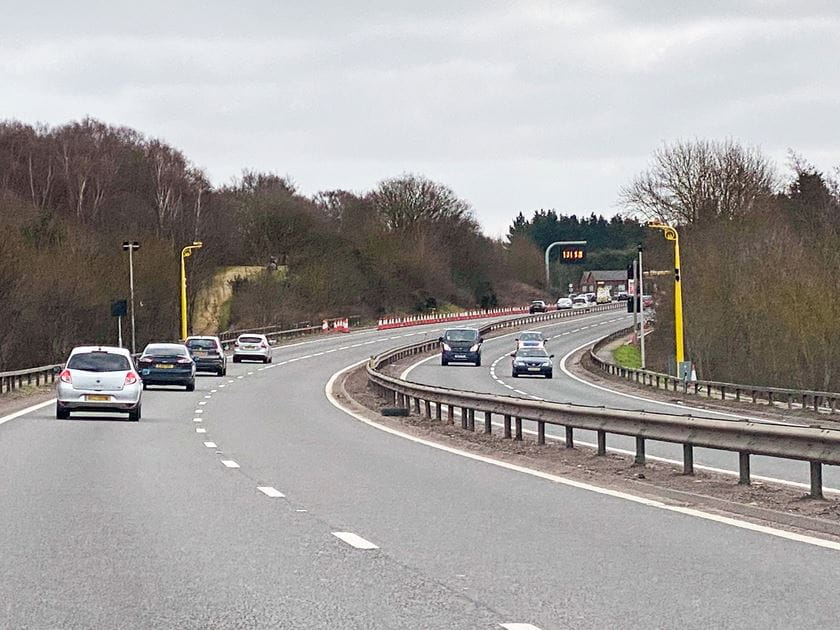 The scheme involves new electronic signs on the bridge near Ipswich displaying enforceable, changeable driver speed limits, mandating speeds as slow as 40 mph depending on wind speed. Until now the A14 bridge has had to be closed completely when wind speeds are deemed dangerous, but now will only need to be shut on the rare occasions that gusts over 60 mph are predicted.
The bridge's existing 60 mph limit is already enforced using a SPECS solution, but due to the changeable speed limit, Jenoptik enhanced the existing installation to allow different speed limits to be enforced, when appropriate, when required by the wind speed management plan.
SPECS average speed enforcement works by timing how long a vehicle takes to travel between two cameras, and comparing it with the time it should take driving at the limit. Vehicles travelling quicker than that time can therefore be proved to be speeding. When the limit is lower, the time vehicles take is compared with the increased legal duration.
Martin Fellows, Highways England Regional Director explains: "Orwell Bridge has vital importance not only for the people living and working in Ipswich, but also for the 4000 vehicles that go through the International Port of Felixstowe every day. These new upgrades mean that the bridge will be able to remain open more often, meaning more reliable journeys for drivers, local residents, businesses and hauliers on route to the port, and less congestion in town. However, it's vital that motorists respect the speed limits shown on the new electronic signs for their own safety and the safety of others."
Geoff Collins, a Director from Jenoptik said: "The Orwell Bridge SPECS installation was proving successful in managing speeds and flows over the structure, but this unique new configuration permits the crossing to still be used safely with higher wind speeds, further benefitting all road users."
The new scheme follows a year-long study of the Orwell Bridge's aerodynamic properties by City University of London testing vehicle stability of different types of vehicles and wind directions. It concluded that the current wind limit of 60mph for closing the bridge is correct for safety, but that reducing the traffic speed limit down from 60mph during high winds means that the bridge can remain safely open when the wind is at certain speeds. The signs will display a maximum driver speed limit of 60mph for winds speeds of up to 45mph, or a 40mph driver speed limit if wind speeds of between 45mph to 60mph are forecast. The bridge will be closed if wind speeds of 60mph or above predicted due to the safety risk to motorists.
About Jenoptik and the Light & Safety division
Optical technologies are the very basis of our business: Jenoptik is a globally active technology group and is active in the three photonics-based divisions: Light & Optics, Light & Production and Light & Safety. Under the TRIOPTICS brand, Jenoptik also offers optical test and manufacturing systems for the quality control of lenses, objectives and camera modules. VINCORION is the brand for our mechatronic business. Our key target markets primarily include the semiconductor industry, medical technology, automotive and mechanical engineering, traffic, aviation as well as security and defense technology industries. Approximately 4,500 employees work for Jenoptik worldwide. The Group's headquarters are in Jena (Germany). JENOPTIK AG is listed on the German Stock Exchange in Frankfurt and is included in the SDax and TecDax. In the 2020 fiscal year, Jenoptik generated revenue of approx. 767 million euros.
The Light & Safety division develops, manufactures and distributes components, systems and services which contribute towards greater road traffic safety throughout the world. The product portfolio comprises comprehensive systems relating to all aspects of road traffic, such as speed measurement and red light monitoring systems, OEM (Original Equipment Manufacturer) products and systems for the detection of traffic violations. Expertise extends to measuring average speed over a defined section of road (section speed control) and automated number plate recognition (ANPR). Thanks to the digital combination of several sensor technologies with software and data management, Jenoptik is also a new systems supplier for truck toll monitoring on federal highways in Germany. In the service field we cover every aspect of the traffic safety process chain.