RecommendMail Facebook LinkedIn
Jenoptik successfully places 400 million euro debenture bond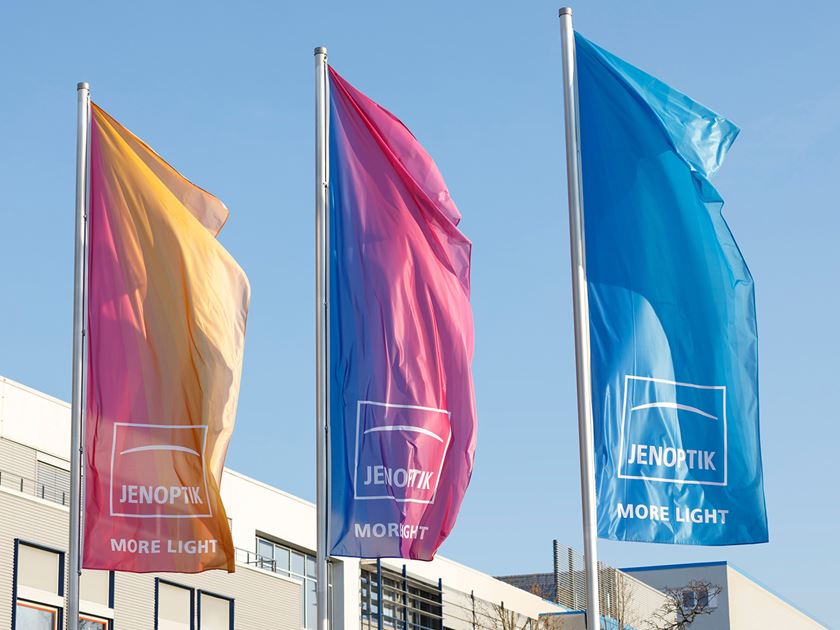 Jenoptik has successfully placed a debenture bond with sustainability components on the capital market. The transaction was significantly oversubscribed, the originally planned placement volume was doubled from 200 million euros to 400 million euros. The funds give the technology group room for manoeuvre for acquisitions and investments in its photonics core business.
Great demand from investors
"There was considerable interest on the capital market," says CFO Hans-Dieter Schumacher, summarizing the transaction. "Particularly pleasing was the high demand from investors who had not previously participated in debenture bond placements by Jenoptik. This shows that investors have great confidence in our company," said Schumacher. The issue took place at the lower end of the respective interest rate range. The debenture bond was subscribed to by more than 250 institutional investors – such as savings banks, credit unions and international credit institutions.
Sustainability components
"We are observing that more and more investors want to invest their money sustainably. With this debenture bond, we have opened up an attractive opportunity for investors to do so," says the Jenoptik CFO. For this reason, three different ESG indicators are integrated into the debenture bond, which address the topics of environment, social affairs and corporate governance. Jenoptik has set itself specific measurable targets for sustainability in the supply chain, the group-wide proportion of green electricity and the diversity of its management team. Jenoptik receives a small interest advantage if all three targets are achieved; conversely, a malus must be accepted if less than two of the three targets are achieved.
"Our understanding of sustainability is based on the belief that we can only achieve our economic goals and thus permanently profitable growth by acting responsibly. The ESG-targets linked to the debenture bond are therefore also an integral part of our corporate strategy," summarizes the CEO Dr. Stefan Traeger.
Different maturities, currencies and value dates
The debenture bond comprises several tranches with maturities of five, seven and ten years, which were issued not only in euros but also to a lesser extent in US dollars and predominantly with an initial value date of September 30, 2021, six months in the future. Investors from Germany and abroad were offered both fixed and variable interest rate options. The attractive conditions reflect the Jenoptik Group's very good credit rating, which corresponds to an investment grade rating.
"Following the completion of these capital measures, we will once again have a very solid, long-term and broad-based financing base. The increase in debt is within a very reasonable range, and our balance sheet remains healthy, as the equity ratio of around 50 percent shows," says the CFO, summarizing the new group financing.
Classic and digital marketing
The transaction was arranged by BNP Paribas, DZ BANK and Landesbank Hessen-Thüringen Girozentrale. In addition, it was marketed via the digital debt financing platform VC Trade, where companies can offer their debenture bonds efficiently and transparently to a broad investor base.
About Jenoptik
Optical technologies are the very basis of our business: Jenoptik is a globally active technology group and is active in the three photonics-based divisions: Light & Optics, Light & Production and Light & Safety. Under the TRIOPTICS brand, Jenoptik also offers optical test and manufacturing systems for the quality control of lenses, objectives and camera modules. VINCORION is the brand for our mechatronic business. Our key target markets primarily include the semiconductor industry, medical technology, automotive and mechanical engineering, traffic, aviation as well as security and defense technology industries. More than 4,400 employees work for Jenoptik worldwide. The Group's headquarters are in Jena (Germany). JENOPTIK AG is listed on the German Stock Exchange in Frankfurt and is included in the SDax and TecDax. In the 2020 fiscal year, Jenoptik generated revenue of approx. 767 million euros according to preliminary figures.