Jenoptik green-lights plans for modern company restaurant in Jena-Göschwitz
The plans for the new restaurant have been finalized. It will provide space for both exchange and meetings between Jenoptik employees at the Göschwitz site. Construction is now proceeding at a rapid pace. The boards of JENOPTIK AG approved the 11.9 million euro investment at the end of December. "We are pleased to be able to start implementation. The aim is to open in mid-2022," says Julian Winkelhofer, Head of Corporate Real Estate Management, the department that is responsible for the construction project.
The new employee restaurant will be built on the same site as the old "JenCasino", which was demolished in summer 2020. Over the past few months, Jenoptik had acquired the site and drawn up the plans for the new building, as well as preparing the building site.
The new building has a total gross floor area of around 2,100 square meters on 2 floors. In addition to providing lunch for around 800 Jenoptik employees every day, the plans also include modern communication areas, meeting rooms, a café lounge and the redesign of the outdoor area.
The company's values and strategy are at the heart of the plans. For example, the company is aiming for sustainability certification, which emphasizes ecological and social aspects. In addition, the open culture is reflected in the room and furniture structures and the future orientation in the use of modern materials, for example aluminum bond and glass facades or metal grids as privacy screens. The theme of "More Light" is reflected in the design of the facade, which will create exciting light reflections during the day and can be staged with the corporate colors after dark.
Image: Design draft of the new company restaurant at night. ©igb AG Weimar
About Jenoptik
Optical technologies are the very basis of our business: Jenoptik is a globally active technology group and is active in the three photonics-based divisions: Light & Optics, Light & Production and Light & Safety. Under the TRIOPTICS brand, Jenoptik also offers optical test and manufacturing systems for the quality control of lenses, objectives and camera modules. VINCORION is the brand for our mechatronic business. Our key target markets primarily include the semiconductor industry, medical technology, automotive and mechanical engineering, traffic, aviation as well as security and defense technology industries. Around 4,400 employees work for Jenoptik worldwide. The Group's headquarters are in Jena (Germany). JENOPTIK AG is listed on the German Stock Exchange in Frankfurt and is included in the SDax and TecDax. In the 2019 fiscal year, Jenoptik generated revenue of approx. 855 million euros.
Contact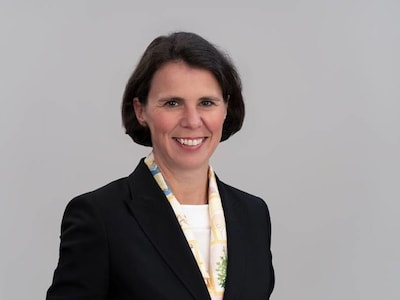 Leslie Iltgen
Head of Investor Relations & Corporate Communications