RecommendMail Facebook LinkedIn
Jenoptik offers novel UFO Probe Card for PIC Wafer Level Testing
As a partner for the semiconductor equipment industry, as well as test providers and users, Jenoptik is offering a novel optical solution for integration into electrical test cards. The ultra-fast opto-electronic probe card or UFO ProbeTM Card is used for functional testing on semiconductor chips with integrated optical functions, known as photonic integrated circuits (PICs), and can be adapted to customer requirements.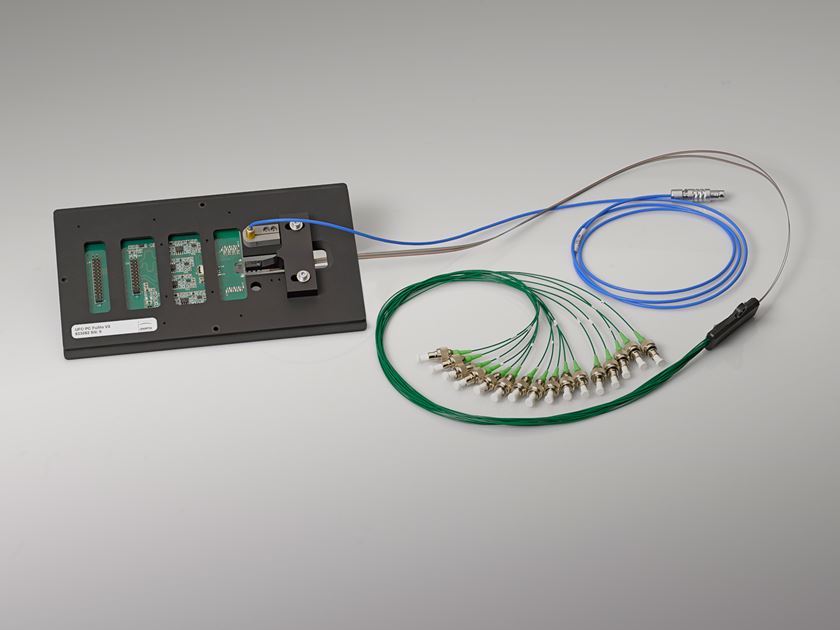 Jenoptik's new UFO ProbeTM technology targets the market for semiconductor equipment and processes for wafer-level testing in microelectronics. The technology is based on a concept for optical probing of photonic integrated circuits, which is insensitive to alignment tolerances in the wafer prober. As consequence, the opto-electronic probe card can be used with commercially available wafer probers and ensures an accordingly high throughput for testing photonic integrated circuits.
The new hybrid probe card combines electrical and optical tests in one solution. This allows multiple optical and electrical channels of a PIC or even several PICs to be tested in parallel, regardless of their arrangement, thus meeting the demand of opto-electronic tests for high-volume applications. The design of the probe card can be customized to meet specific requirements, such as individual PIC layout and specific test arrangement. The first series run was successfully measured with this new technology.
Jenoptik is working with probe card manufacturers to integrate the optical module into established and proven needle technologies. The first platform version of UFO ProbeTM is available in Eurocard format with cantilever needles and can be adapted to different applications if required. Here, the customer benefits from rapid development with customer-specific features.
A high-resolution image is available to download from the Jenoptik image database in the "Products" section or via this direct link.
Image: UFO ProbeTM Card with cable. Copyright: Kurt Lochte
About Jenoptik and its Light & Optics division
Optical technologies are the very basis of our business: Jenoptik is a globally active technology group and is active in the three photonics-based divisions: Light & Optics, Light & Production and Light & Safety. Under the TRIOPTICS brand, Jenoptik also offers optical test and manufacturing systems for the quality control of lenses, objectives and camera modules. VINCORION is the brand for our mechatronic business. Our key target markets primarily include the semiconductor industry, medical technology, automotive and mechanical engineering, traffic, aviation as well as security and defense technology industries. Around 4,400 employees work for Jenoptik worldwide. The Group's headquarters are in Jena (Germany). JENOPTIK AG is listed on the German Stock Exchange in Frankfurt and is included in the SDax and TecDax. In the 2019 fiscal year, Jenoptik generated revenue of approx. 855 million euros.
The Light & Optics division is a global OEM supplier of solutions and products based on photonics technologies. Jenoptik provides a broad portfolio of technologies combined with deep experience of more than 25 years in the fields of optics, laser technology, digital imaging, opto-electronics and software. Our customers are leading machine and equipment suppliers working in areas such as semiconductor equipment, laser material processing, healthcare & life science, industrial automation, automotive & mobility and safety, as well as in scientific institutes. As a development and production partner, the Light & Optics division focuses on advancing cutting-edge technologies to improve our customers' system performance and ultimately realize product outcomes that reach new heights enabled by our highly-integrated photonic solutions. The systems, modules and components based on photonics technologies help our customers overcome their future challenges.